It's a sad video, but it's also beautiful. Her bond with her caregiver was extremely strong.
A mountain gorilla from the Democratic Republic of the Congo went viral in 2019 thanks to her adorable photos.
She wasn't afraid to photobomb pictures of the people she was with, and she even took selfies with them!
Everyone in the national park where Ndakasi, the photobombing mountain gorilla, lived adored her.
She had a lighthearted and playful demeanor and was always willing to pose for the camera.
Fourteen years ago, the gorilla was discovered in the forest alongside her lifeless mother, who had died as a result of bullets fired by native hunters.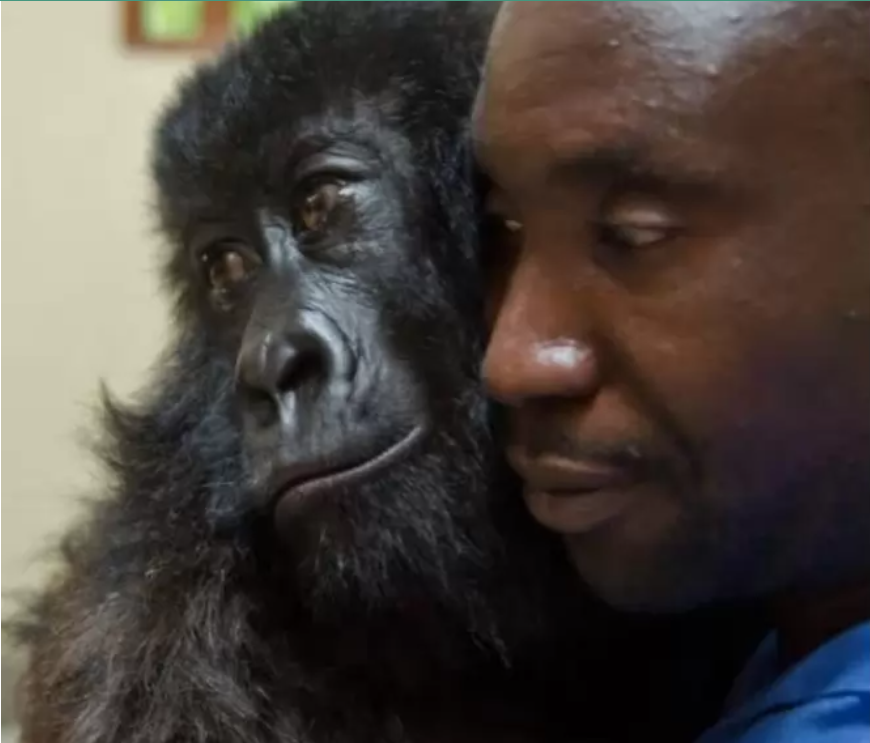 Andre Bauma, a park ranger, rescued her and brought her to the national park to be raised.
The story of Nadakasi is not unusual.
The majority of the mountain gorillas in the Congolese national park were rescued from the wild after being orphaned due to hunting activities in the area.
If they are left alone in the woods, they may be exposed to harsh weather and may not be able to survive without their parents.
When Ndakasi needed saving, park ranger Baua was there, and the two of them formed an unbreakable bond. Ndakasi grew up to be a cheerful and fun-loving gorilla.
Andre became more to her than just a park ranger. Ndakasi has been cared for by people at the Senkwekwe Center in Virunga National Park, including Andre, for the past 14 years.
Ndakasi went viral in 2019 after taking a cute selfie with Andre and other park rangers.
Her poses were adorable and uncharacteristic for a gorilla. People liked her vibe and found her penchant for posing in front of the camera amusing.
She was a bubbly gorilla who gained popularity both in the park and online.
Her joy was contagious, and she was simply having a good time.
Ndakasi developed a disease.
Ndakasi became ill in recent years, causing her health to deteriorate.
She had the illness for an extended period of time before succumbing to it.
When Ndakasi took her last breath, she was in the arms of her best friend and savior, Andre.
The park ranger was grateful for the opportunity to get to know Ndakasi and become her friend.
"It was a privilege to support and care for such a loving creature, especially knowing the trauma Ndakasi experienced at such a young age, and one could say she took after her mother, Nyiransekuye, whose name means "someone happy to welcome others," the park ranger said.
Friendship knows no species or race.
Whether animals or humans, it is undeniable that we need friends to live. We rely on each other, help each other and have fun together.
Friends do not necessarily mean someone of the same race or species as yours. Humans can be best friends with animals, just like Andre and Ndakasi's inspiring story.
Their friendship has transcended boundaries and Andre will forever be grateful for having the chance to meet and be friends with such an amazing creature like Ndakasi.
Hear more about this beautiful story by watching the video below.